Immerse Yourself in Adventure
Overview
We specialize in the ultimate action-packed Teen Surf Camps! Our core program fundamentals are designed specifically for teens from beginner to advanced.  Have you ever thought about learning how to surf? Have you been surfing for a while and want to improve your skills at an overnight teen camp or day camp?  If you answered yes, we invite you to immerse yourself in the warm waters of one of our awesome locations.
In our "learn by doing" Overnight Teen Camps, you will learn how to predict, select, and judge waves, discover why some beaches break better than others, gain board riding ability, confidence, and knowledge of our oceans.  We cater to teenagers, and through our progressive and professional instruction our expert coaches will take you to the next level.  Join teens from all over the world for an overnight teen camp you will never forget.
Flagship Overnight WB Surf Camp
This ultimate overnight surf camp for teens takes place on the pristine beaches of Wilmington, North Carolina. Come to the camp where it all began and thousands of teens have found their stoke of surfing. It's amazing how proper surfing instruction from our world class coaches will accelerate your learning curve and eliminate the frustration beginners face. Our certified team is experienced, knowledgeable, friendly and will guide you through our safe, effective progression. Join teens from 46 states and 26 countries all over the world for an adventure you will never forget!
Teen Overnight Camp – Costa Rica
Come join our Teen Costa Rica Surf & Adventure Camp for the two week surf experience of a lifetime! This adventure is for beginner to advanced surfers ages 14-18 who want to learn how to surf or improve their skills while being immersed in the culture of Costa Rica. Come have the time of your life while surfing several of Costa Rica's best breaks and exploring the Guanacaste region "Pura Vida" style! We have been offering camps here since 2005 as the tropical climate, year-round waves, and 80 degree water temperatures make it a go-to destination for all levels of surfers.
Teen Overnight Camp – California
Experience the iconic surf culture of the West Coast as part of our Teen California Surf and Adventure Camp. Travel to the state that helped revolutionize the sport and learn to surf in the wake of legends. Our unique program will take you away from the crowds to the famous Central Coast where you will be soaked in both the waves and the amazingly diverse marine environment. We will travel the coastline from the Monterey Bay Aquarium down to the Santa Barbara Channel, staying in cabins and camping in tents to experience all the beauty California has to offer.
Teen Overnight Camp – Spring Break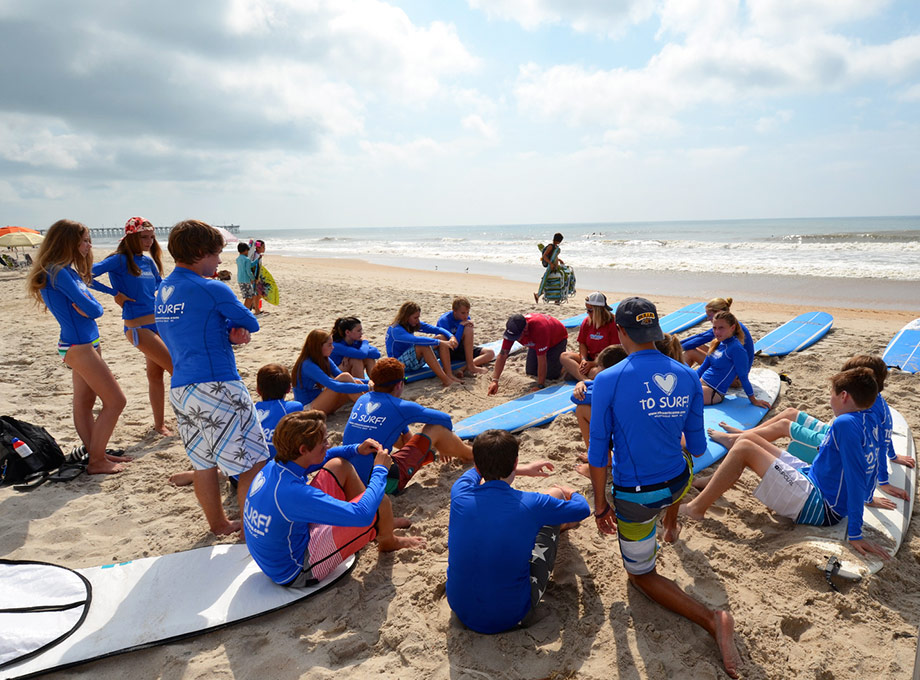 Make this Spring Break the best one ever and spend it surfing some of the best breaks in southeastern North Carolina! Join us for an amazing time as we discover Surf City, the town named for its abundance of waves! Imagine waking up in your  beach house with amazing surf instructors and surfing uncrowded beaches all day long. Whether it's your first time riding waves or an advanced shredder we will take your surfing to the next level!
Teen Overnight Camp – Board Building
How would you like to spend your summer surfing the warm waters of Wrightsville and Topsail beaches while creating your own custom surfboard?  Does surfing mean more to you than just riding the waves under your feet? Spend time with fellow surfers whose passion for the sport inspires them to want to learn the art of surfboard building. While apprenticing a professional shaper, you will learn different aspects of this unique trade such as why surfboards are shaped differently and what effects shape has on performance.
If you are an intermediate to advanced surfer looking to effectively improve your water and competitive skills, WB Surf Camp has the program and coach for you!
Teen Surf Day 10+  Wrightsville Beach
Our teen surf camps are located in several amazing warm water locations. During our five day learn to surf adventure you will build confidence in the fundamentals of the "Sport of Kings." Our surf camps offer a progressional methodology instruction approach and have a minimum student to instructor ratio of 3:1.
Teen Travel FAQs
All participants are responsible for scheduling their flights to arrive and depart from the designated airport at the appointed time.
What is the nearest airport and do you have a shuttle service? 
Participants should schedule their flights into the appropriate program airport listed above. All campers will be met either at baggage claim or right outside customs by their trip leaders. If you are traveling with an Unaccompanied Minor Service, instructors will meet you outside your arrival gate. After arrival, all campers and their luggage will be transported to our accommodations. On the way home, our staff return the campers to the airport, and remain there until each camper's flight has taken off.
 What if I can't get in by the set check in time? 
In order to avoid missing any planned activities, campers should plan to arrive on the first day of camp and depart on the last day of camp within the designated arrival and departure windows (listed above). Our office staff will be diligent in coordinating your camper's travel schedule with our trip leaders, should there be any delays or changes in itinerary.
What if my luggage doesn't make it? 
Occasionally the airlines will misplace luggage or your suitcases will miss connecting flights. We recommend campers keep essentials, such as medications, toiletries, bathing suit, and an extra change of clothes, in their carry-on luggage just in case.
Unaccompanied Minor Services
For all teen camps involving air travel, please be sure to check with your airline regarding their Unaccompanied Minor Policy. If your student will be traveling with an Unaccompanied Minor Service, our office will supply with the information needed at check-in, such as the name and address (as it appears on government ID) of the WB Surf Camp staff member meeting the student at their arrival gate. We will provide this information the week prior to camp via email. Likewise, the information needed for the returning leg is the name and address (again, as it appears on government ID) of the person meeting the student upon return. Please ensure that you pay the unaccompanied minor fee for both legs of travel. If you pay in advance for the returning leg, the camper must keep the receipt for verification purposes.
We have included a summary of some of the major air carriers' Unaccompanied Minor Policy (see below).