Rick Civelli
Founder / President
Rick Civelli – Founder/President
As a kid, Rick Civelli spent his summers clamming, fishing, and of course surfing. Without realizing it, his appreciation for environmental conservation was ingrained before his teens. He graduated from UNC-Wilmington with his Bachelors in Environmental Studies. During college and after graduation he worked as a marine science educator at the North Carolina Aquarium at Fort Fisher. For three years he developed and facilitated programs while teaching thousands of adults and children about the wonders of our coastal ecosystems. During both his undergraduate and graduate studies, he was an assistant director for UNCW's Marine Science Summer Camp Program.
To broaden his professional development he later worked as a permit and enforcement officer for the North Carolina Division of Coastal Management. Taking a different approach to environmental conservation, he reviewed and permitted coastal development projects, and issued fines for remediation of impacted coastal resources. Rick sat on the Board of Directors for the Society of Masonboro Island and is a member the Surfrider Foundation, and the NC Aquarium Society. He also spent 3 years pursuing a Masters Degree in Coastal Geology from UNC-Wilmington's Center for Marine Science where he studied coastal processes.
In the winter of 1995, Rick developed a marine science educational learn to surf program for our local aquarium which he called "Surf's Up". Since then he has taught thousands of students of all ages the sport of surfing while enlightening them of the wonders of our coastal environment.
His travels have brought him to surf and study coastal processes and habitats all over the world. He has explored coral reefs in Hawaii, Puerto Rico, Anegada, Antigua, Bermuda, Jost Van Dyke, St Lucia, St Thomas, St John, and St Martin. He has swam with sea turtles in, Tortola, Baja Mexico, Barbados, and Costa Rica, sharks in Looe Key national marine sanctuary, sting rays in the Bahamas, sea lions in Peru, and dolphins off Key West Florida.
He has surfed up and down the east coast from Nantucket to Block Island to Cape Hatteras to Sebastian inlet. He has also caught many epic swells on the West coast from Morro Bay to Tourmaline San Diego. On several occasions Rick has also ventured to the North Shore of Oahu, where he visited famous surf breaks including Waimea Bay, Pipeline, Sunset and Sandy Beach.
With his love for surfing and utmost respect for the ocean and it's resources, Rick has developed this unparalleled fun experience known as "WB Surf Camp."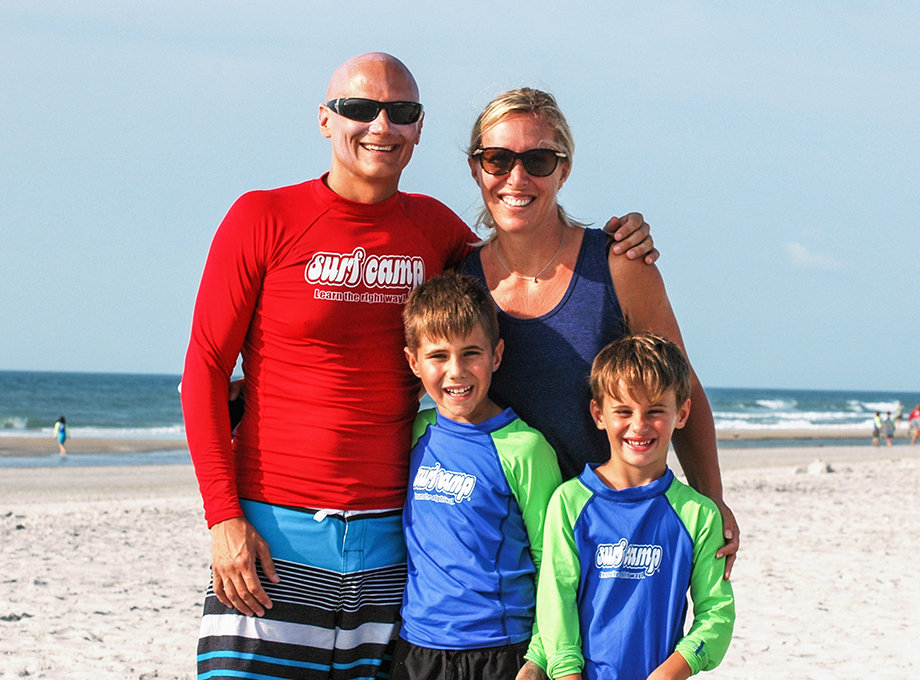 Jen Civelli – Co-Founder
Jen's first experience with sea turtles was the beginning of a lifelong commitment to sea turtle conservation and taking care of our oceanic resources.  She started volunteering at the Karen Beasley Sea Turtle Hospital & Rehabilitation Center in 2001.
Jen has fifteen years of experience in higher education as an instructor of Chemistry at both Cape Fear Community College and the University of North Carolina at Wilmington.  Jen loves to teach and educate today's youth and young adult population, especially in the field of sea turtles and coastal conservation.
Jen's passion for the marine environment started living along the California coast while in college.  Jen received her Bachelors' degree in Biochemistry from California Polytechnic State University in San Luis Obispo.  Her passion followed her to San Diego State University where she earned her Master's Degree in Chemistry.
Jen loves to travel and experience new environments and cultures.  She especially loves warm-water surf destinations where she can spend time in the water with her husband, two sons, and two dogs.  Jen can often be found on a sporting field cheering on her boys' games!
Deaton Wright
Operations Director
Deaton Wright – Operations Director
Born and raised in North Carolina, Deaton spent most of his childhood on the beach or in the mountains. He attended his freshman year of college at Lenoir-Rhyne University where he was an NCAA Academic and Athletic All-American swimmer. He then transferred to UNCW in 2012 where he began his career with WB Surf Camp. While attending college he worked in many different roles within the company to include teen overnight camps, day camps and international surf coaching. He has a passion to teach, travel and positively influence the lives of others.
Upon graduating from college, Deaton found himself fully immersed in a winter wonderland while working on the mountain in Breckenridge, Colorado. He was thankful for the experience but his love for the ocean led him back to the east coast where he moved to the Outer Banks (OBX) of North Carolina. It is here that he honed in on his skills in staff management, operations, international travel programming and of course the heavy barreling surf that the area has to offer. While living in the OBX he maintained his relationship with Surf Camp and spent time coaching in Tortola and Costa Rica.
After years of experience in the water-sports industry, Deaton's aptitude for logistics, operations, concern for conservation and search for more meaning in his career led him back to Surf Camp, where he is the Operations Director. In his free time, you can find him fishing the inland waters of NC, hiking in the Blue Ridge Mountains, searching for barrels and researching his next surf trip.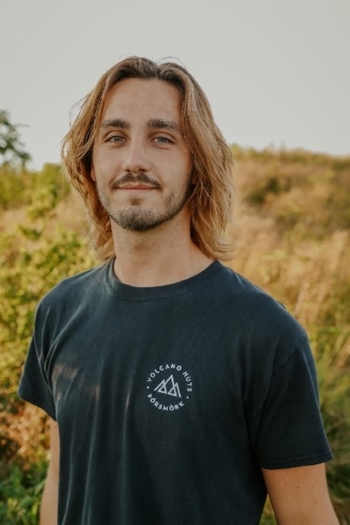 Mead Krówka
Program Coordinator
Mead Krówka – Program Coordinator
Born outside Chicago, Illinois, Mead has always been drawn to the water. In 2008, Mead moved with his family to Asheville, NC, where he volunteered at the Pisgah Center for Wildlife Education, sparking his interest in the natural world. This led to Mead becoming PADI Open Water Dive certified in 2014, PADI Rescue Diver certified in 2017, and maintaining continuous American Red Cross Lifeguard certification since 2015.
In 2017, Mead moved to Wilmington to begin his career at UNCW. It was at this time he learned to surf and has been in the water with every given opportunity since. Since then, he has been experimenting with different board shapes and styles, his favorite board being a 6'1 Single Fin Bonzer. During his time at UNCW, Mead was a member of the UNCW SCUBA Club and an intern for the Alliance for Cape Fear Trees. He also completed a directive individual study in 2020, studying the diet of the Greater Northern Galago primates, publishing his research in the American Journal of Biological Anthropology.
 Mead graduated magna cum laude in 2021 with a B.S. in Environmental Science, a B.A. in Anthropology, and a Chemistry minor. Immediately following, he became the Sea Turtle Camp SCUBA Marine Educator, before transitioning to his current position as the WB Surf Camp Program Coordinator. In his free time, Mead is most likely surfing on Wrightsville Beach. He also enjoys shaping surfboard fins, exploring shipwrecks, and enjoying all the natural beauty coastal NC has to offer!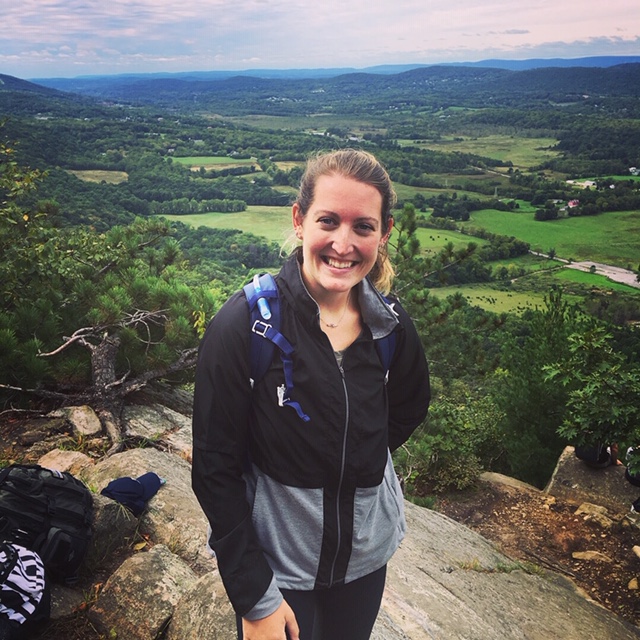 Kasey Schollenberger
Program Director
Kasey Schollenberger – Program Director
Kasey was born and raised in Toms River, New Jersey. Growing up on the Jersey Shore, she was able to visit the beach year round and develop a true connection to the ocean and all of the related wildlife and ecosystems. At a very young age, she knew that she wanted to spend her life developing her passion for the ocean and marine life.
In 2008, Kasey moved to North Carolina to pursue a Bachelor's degree in Marine Biology from the University of North Carolina Wilmington (UNCW). While completing her degree, she volunteered and interned at the NC Aquarium at Fort Fisher. Soon after graduating, Kasey interned at the University of Georgia's Marine Extension Service and Aquarium as an environmental educator. This is where her passion for environmental education flourished. Following that internship, Kasey decided to further her education and returned to UNCW to pursue a Master's of Science degree in Environmental Science and Coastal Management. Kasey has a wide variety of education experience in the fields of marine and environmental science, which have all deepened her love for public outreach and all things related to the marine environment.
When Kasey isn't teaching about the ocean, she can be found at the beach reading a book, hiking, kayaking, or doing just about anything outdoors! She is very excited to have found her way back to Wilmington and loves that she gets to spend winters in North Carolina instead of freezing in New Jersey!
Liz Smith
On-Site Camp Director
Liz Smith – On-Site Camp Director
Liz grew up going to summer camp and enjoyed it so much she decided to make a career of it! Combining her love of camp with a passion for coastal science led her to get a master's degree in Environmental Education from UNCW. Liz has also worked at the NC Aquarium on Roanoke Island as an educator, UNCW as an adjunct professor, and many, many camps as a naturalist. This is her second year with Surf Camp, but her 28th year at a summer camp. From CIT, to counselor, all the way to director, Liz has worked nearly every position at camp but most enjoys now being able to teach young adults about working with kids, teaching about the environment, and becoming professionals themselves.
Liz originally hails from Illinois and first fell in love with the ocean at the Shedd Aquarium in Chicago. Moving to the ocean was her first priority after high school, and she's lived within 10 miles of the beach ever since. Her favorite coastal activity is kayaking in the Intracoastal Waterway and marshes. When not at camp, Liz spends time fostering retired racing greyhounds, making crafts and sewing, and reading science fiction.
Icah Wilmot
International Surf Coach
Icah Wilmot – Ambassador – Adult Travel Coach
As Jamaica's first pro-surfer, ISA level 2 surf coach, and the holder of countless championship titles, Icah is deeply invested in the surfing community. In addition to teaching surf lessons in Jamaica, Icah also coaches Jamaica's Paralympic team of surfers. 
His father founded the Jamaica Surf Association, as well as owns and operates Jamaica's longest running surf school, Jamnesia.  In fact, Icah still makes time between work and competitions to surf, teach, and jam around the campfire with his family.  Today, Icah Wilmot is a household name in Jamaica and in the world of surfing. 
Despite a long list of surfing accomplishments, Icah is best known for his warm and friendly personality, along with his humble and sociable attitude towards all his fellow ocean lovers.  Whether you are a new surfing grom or seasoned shredder, Icah welcomes you to the water with encouragement and positivity that will truly make you feel like a surfer.
Flash Miranda
Costa Rica/Peru Surf Coach
Flash Miranda – Costa Rica/Peru Surf Coach
Flash is a Costa Rican native who spent more time in the water than out of it growing up.  At age 15, Flash moved from the city of Liberia to the coastal region of Playa Marbella to pursue surfing full time.  He later became a full-time surf instructor in Tamarindo and it was there where Flash developed new techniques to teach people how to surf, including video analysis and surf seminars.
In May 2016, Flash opened his own surf school and retreat company. We have worked with Flash since 2005 and consider him a part of our family! He joins our team to provide our clients with professional instruction and a true locals' experience.  He is a bi-lingual instructor for Adult and Teen Costa Rica camps as well as our adult surf trips to Peru.
Chase O'Briant
Travel Coach
Chase O'Briant – Travel Coach
Chase was born and raised in Wilmington, North Carolina.  He taught himself how to surf at the age of eight, and grew up surfing the north side of Crystal Pier in Wrightsville Beach.   When he wasn't surfing, Chase spent most of his time fishing, playing soccer, or writing music.  In high school, Chase was the founder and president of his school's Surf Club, he played varsity soccer, was deeply involved in the local music community, and earned the Eagle Scout Award.
Chase attended the University of North Carolina at Chapel Hill, and graduated in 2018 with a degree in English and Political Science.  One of the highlights from his years in school was being a student when the Tar Heels won the 2017 NCAA Basketball Championship.   As a student, Chase also worked as a lifeguard at the campus pool, and coached campus-league soccer teams in both the men's and co-ed divisions, winning one title in the co-ed division.  It was also during this time that Chase became a surf instructor with WB Surf Camp.
Chase started as a Surf Lesson Instructor in 2016, he then moved into the role of Day Surf Camp Unit Leader, and later joined our administration team as a Program Coordinator. As a Wilmington local, Chase has extensive knowledge of the beaches on which his programs take place, has proven his ability as an excellent surf coach, and is passionate about spreading his love for coastal culture.